Complete Streamer Setup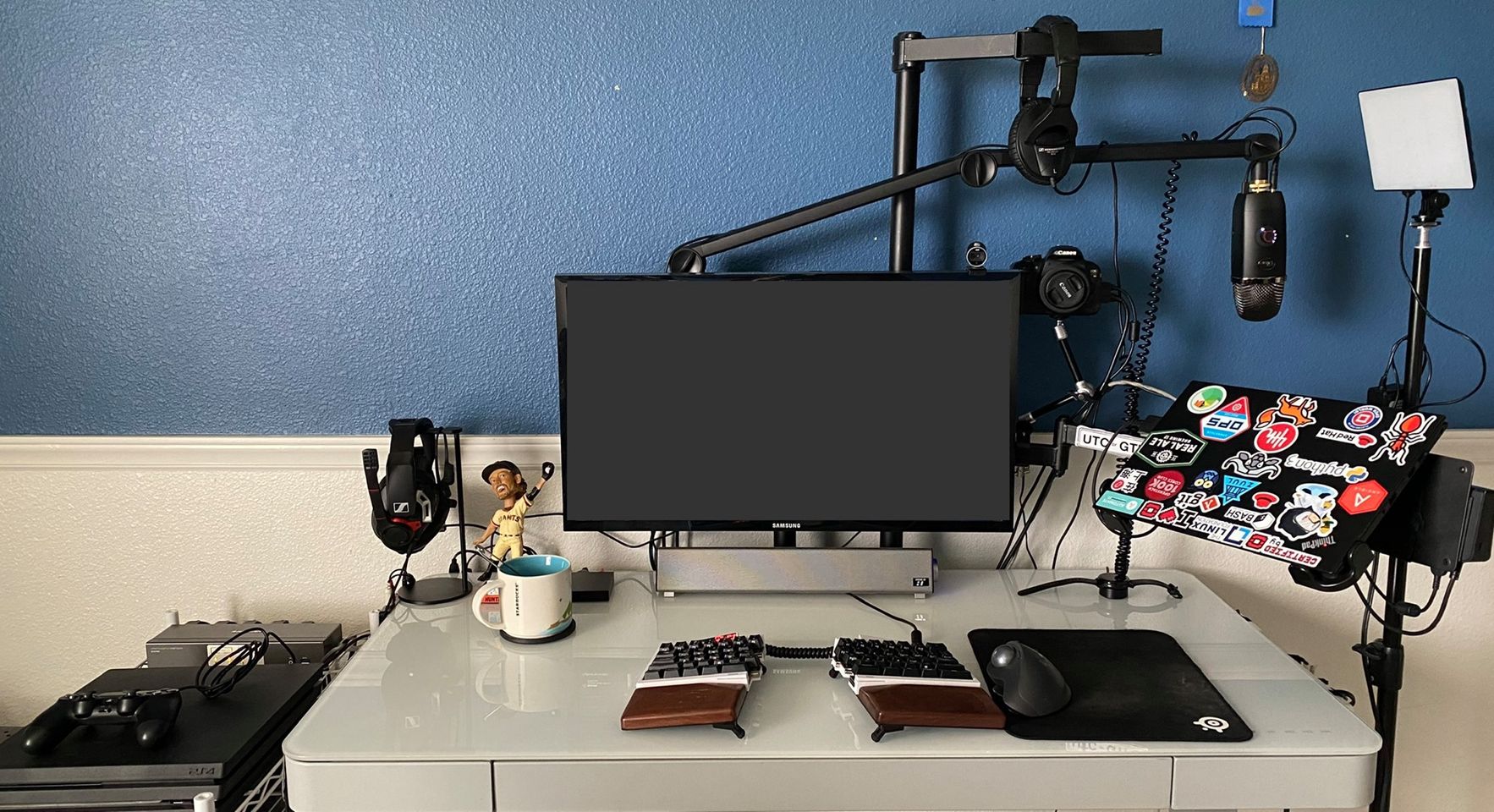 Mutterings from a streaming N00B
As you'll see, many of these components are OLD; some are VERY OLD. However, this post's point shows how I'm streaming and highlights how high-quality, low latency streaming is possible with repurposed gear. I also hope this list of components helps inspire you, maybe to reclaim some old equipment, repurpose something, or try things out.
When I started streaming, I had literally no idea what I was doing. I've been in developing cloud technologies for a long time, I've built systems to manage data-centers, and I've generally been a nerd for most of my life; so I had an idea of what was required from the technology standpoint but making it all go has been an adventure.
If you've followed my adventure thus far, you know I've enjoyed playing games, but really light up when I get to talk about the data and hardware. At this point in my streaming career, I can't help you grow your stream, and I have no sage wisdom on what to do while broadcasting; you should check out Harris Heller for that. That being said, I can help you build your stream; the lower level networking and encoding are what sparks joy for me. I would love to talk about components and their use cases, and it would be a delight to dive into the functionality of different pieces of technology.
Stream Components
This post is an itemized list of all the components I'm using to stream to Facebook, Youtube, and Twitch. While this is a lot of components, I didn't purchase a lot of these things recently. I've been accumulating stuff over the years and have cobbled my set from leftover or otherwise unused gear.
Streaming/Gaming/Workstation PC
The streaming/gaming/workstation PC I'm using was built years ago. I bought the Ryzen CPU when Ryzen first launched.
Dedicated Encoding GPU
My streaming/gaming/workstation PC has two graphics cards. To better enable stream encoding, my second GPU is setup as a discrete graphics card. As noted, above the RX580 graphics card is OLD, but its perfectly capable of playing AAA games and encoding/transcoding a stream.
| Component | Link |
| --- | --- |
| GPU Pulse RX580 | Over clocked @ 1436 |
Control PC
Because I do not have multiple monitors, I use an OLD laptop to connect to my streaming PC. This laptop is used as my tinker toy and thin client while streaming. My streaming PC's connection is performed using Remote Desktop on Windows 10, all using built-in (free) technology. The laptop I'm using has a 256 GiB NVME storage device and has 16 GiB of LPDDR3.
Networking
The networking gear is used to connect my various machines and consoles to a single switch. While generally overlooked, internal network connectivity is essential for a high definition stream, especially when using a multi-computer setup.
Microphone
The microphone setup I'm using is new. One of the things I ended up buying for the stream was a quality microphone setup. While this is an extra expense, I decided it was needed to get a high-quality stream. Some might argue that the camera is more important, but I would say the audio is the most essential part of any stream. Without good audio, your viewers are going to hate watching you. An old or mediocre camera is a lot more acceptable if you provide your viewers with an excellent audio experience.
New
Old
Camera
The old Canon camera works great, though it does have some quirks given its age.
Peripherals
Everything except the KVM switch and USB hub was purchased to start console streaming.
New for stream
Existing
Head set
Desk
| Component | Link |
| --- | --- |
| Tresanti standing desk | purchased at Costco |
Desk Vesa Arms
The monitor mounts were purchased for the purpose of streaming. The monitor mounts and arms noted are all used to attach gear to my desk. This allows me the flexibility to move things around to get a good looking stream and ensure my standing desk functions normally.
Lights
These are the only two lights I use to setup my stream. While I'm no videographer, the look at feel of the stream is cinematic, which I'm going for.
Monitor
This is an OLD monitor though it works wonderfully. The monitor is capable of 4K over DisplayPort and HDMI, has low latency, and excellent picture in picture support.
Keyboard